OMEGA SEAMASTER 120 BABY PLOPROF – 166.0250 – Serial#38 – YELLOW – 1978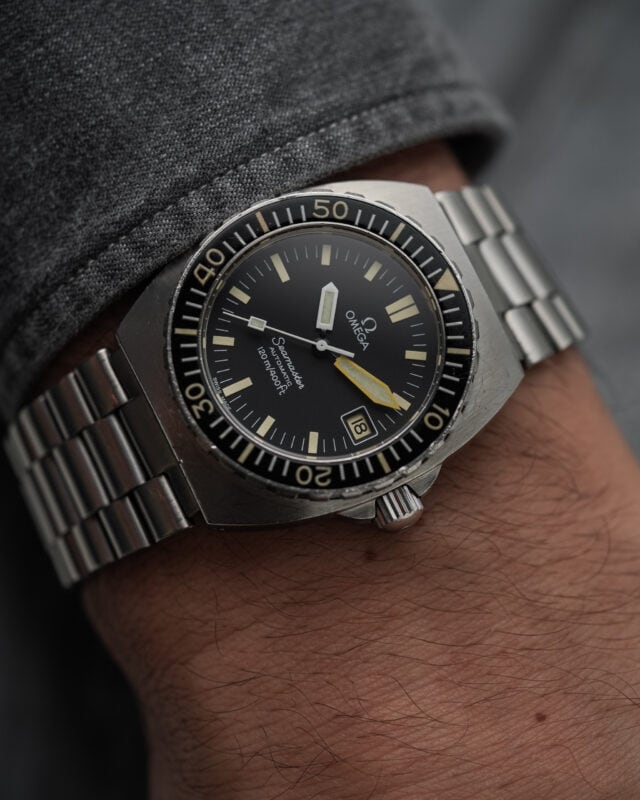 These two "Babys" are coming from the same production date and same, first owner. The serial numbers are identical up to the last two digits. The first one is ending on "35", the second one ends on "38.
Isn't this a super rare occasion for every collector? How high are the chances of having two rare baby PloProfs in 100% authentic condition with serial numbers that close!?
The Omega Seamaster 120 Ref. 166.0250, often referred to as the "baby ploprof," is a notable vintage dive watch introduced in the early 1970s. It was designed as a semi-professional alternative to the Omega Seamaster 600 "ploprof" and later the Seamaster 1000.
Here are some key points about the two watches we offer:
Purpose: The Seamaster 120 was created for sports divers, and it was known for its durability and versatility in design and construction.

Originality: The watches offered are 100% original, which is a highly sought-after characteristic among collectors. Many vintage watches have undergone servicing and part replacements over the years, but this one retains its original components.

Movement: Both watches features a 1000 series movement, specifically the 1010 movement, running strongly and keeping good time.

Patina: The dials are noted to have a beautiful honey-colored patina on the lume, which is a natural aging process, much appreciated by collectors. This patina adds character and authenticity to the watch. One example has a "ghost" minute hand, the other one is more bright yellowish.

Case and Bezel: The original case and unrefinished bezel are also significant features. The delamination on the bezel, while showing signs of age, is considered acceptable and doesn't detract from the watches overall value. Both bezels are in outstanding good condition, considering the "soft" material they are made of.

Collectibility: Vintage Baby PloProfs are becoming increasingly collectible, and their prices have been steadily rising, particularly for factory-built original examples. The rarity of original Baby PloProfs on the market adds to their desirability among collectors.
In conclusion, the Omega Seamaster 120 'baby ploprof' is a notable and collectible vintage dive watch known for its quality, durability, and historical significance. The originality of these two watches and their well-preserved components contribute to their desirability among collectors, and they are considered a valuable addition to a watch collection.
Both watches come on their original, full length steel bracelet.
You can purchase the watches individually or contact us for the set's special price!

Find the Serial#35 "ghost" HERE (click to follow link)
PRICE: 5690 EUR*
BUY NOW
*Margin VAT. The item is differential taxed according to § 25a UStG (German tax law). You will therefore receive an invoice WITHOUT VAT shown separately.
You will not have to pay extra VAT or import charges when buying from any EU country!
Included:
high quality Watchurbia watch box
certificate incl. photos
warranty certificate
39 mm measured without crown and crown guards
24 months*
*You can find the warranty conditions under this LINK
Please click the "BUY NOW" button, contact us via contact form ↵, WhatsApp↵, E-mail or Instagram messenger to purchase or inquire about an item.
All other requests are welcome as well!
Email:
Delivery:
We always ship via insured Express. Shipping is free to EU countries, USA & Canada!
Watchurbia box