IWC Aquatimer 1812 / R812ad – Gay Freres – Tropic – FULL SET 1969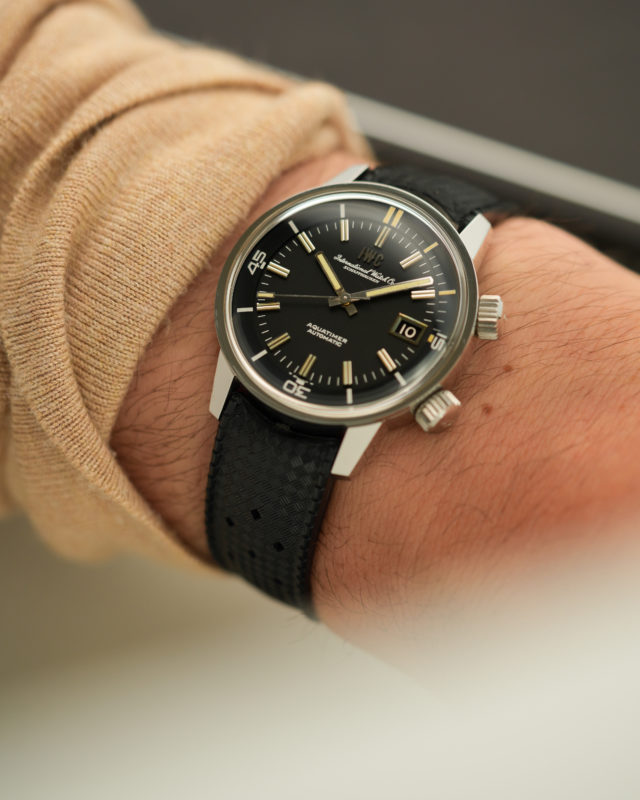 READ THE STORY BEHIND AT HAIRSPRING WATCHES HERE
Some opportunities you probably only get once in a lifetime. Especially if it is an already very desirable watch. Here we are talking about an IWC Aquatimer R812 / 1812 from 1969 – as a true full set.
The watch comes from the father of a fellow collector, who inherited not only his father's extensive collection, but also his passion for watches.
We have recently had the opportunity to buy some remarkably well preserved watches from him.
The father was the first owner of this watch, he purchased it directly from IWC in Schaffhausen on May 12, 1969.
As a professional pilot for Lufthansa and an aviator hobbyist, he actually collected (and wore) pilot's watches, but also tried his hand at other models from IWC and Rolex.
Fortunately for us (and you), however, he obviously didn't wear this Aquatimer very often.
According to his son, the Aquatimer has now been sitting untouched in the safe for over 50 years and recently received its probably first ever service by our vintage specialist, causing a real storm of excitement in his workshop.
It is in technically mint condition now!

Case / Crystal:
The case has two not-really-notable imperfections (see photos), otherwise it is in near-perfect and absolutely unpolished condition.
Original plexiglass, absolutely clear, no discoloration, cracks or scratches.
Some minor scratches can be found on the caseback, whereas the engraving is still super clear and sharply readable…This usually fades once the watch has been worn for a while.
Dial:
Wicked! The effect that perfect storage conditions at a constant temperature and environment can have on tritium is seen very well in this example here. A prime example, if you will.
The color is absolutely saturated, creamy and even, soft and very appealing. Almost maize in color. One of a kind for sure.
The remaining surface condition can be described as like new. The script is still snow white.
The tritium on the rotating bezel is more vibrantly colored at positions 0, 5, 10 and 15, as it is when new. (15 min dive setting, for better readability).
The luminous material had enough time in the over 50 years in the safe to develop this perfect patina very slowly and undisturbed. This should be taken on the tip of your tongue….
Strap / Bracelet:
TROPIC: The original Tropic bracelet is unworn, the vintage IWC pin buckle looks like new. Due to storage in constant darkness, the natural rubber is still soft as on the first day. This Tropic strap by itself is a true treasure find!
GAY FRERES: The original GF Beads of Rice bracelet has been worn, presumably intermittently on another watch. The end links are also original to the R812 and stamped "IA". The bracelet has little to no stretch. Fitting up to about 18.5cm.

The cherry on top? It is a full set:
– Original gold IWC box (For models on Tropic strap, as new)
– Original stamped hang tag with reference and serial no. (as new)
– Original plastic pouch (as new, not discolored, soft)
– Original certificate of origin (as new, stamped: May 12, 1969 directly by IWC in Schaffhausen)
– Original service booklet (as new)
– Original warranty booklet (as new)
– Original IWC / Gay Freres steel bracelet (04/68) with stamped end links (IA)
– Original IWC vintage Tropic strap with IWC pin buckle (both in mint condition, appear unworn)
Price: 18.900,00 EURO* (SOLD)

*Margin VAT. The item is differential taxed according to § 25a UStG (German tax law). You will therefore receive an invoice WITHOUT VAT shown separately.
You will not have to pay extra VAT or import charges when buying from any EU country!
Included:
FULL SET as mentioned above
certificate incl. photos
service report
warranty certificate
37 mm measured without crowns
24 months*
*You can find the warranty conditions under this LINK
Please contact us via contact form ↵, WhatsApp↵, E-mail or Instagram messenger to purchase or inquire about an item.
If the item is not available right now, feel free to contact us anyway!
Email:
Delivery:
We always ship via insured Express. Shipping is free to EU countries, USA & Canada!
Gallery:
Click pictures for full size