Zenith Super Sub Sea A3635 – 1972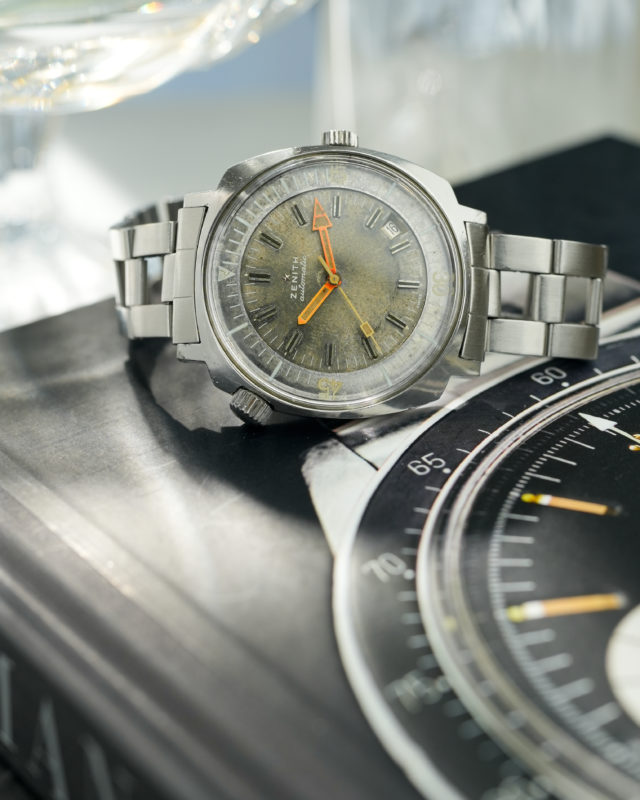 Why indulge in the allure of a vintage watch?
Embark on a journey into the captivating realm of vintage timepieces, where stories whisper from every intricate detail. Unveiling these hidden narratives is a rare pleasure, but we have a remarkable tale to share with you.
Behold the magnificent ZENITH Super Sub Sea with Ref. A3635, a cherished possession since its acquisition in 1972 by its first and only owner in Germany. This remarkable piece accompanied him on daring diving expeditions during his youthful years. Following a fateful diving accident in 1982, the watch underwent meticulous servicing at Zenith, resulting in a captivating consequence. The crown suffered damage in the incident, bestowing upon it a breathtakingly beautiful patina of the dial that has evolved over the years.
But that's not all. Along with this extraordinary timepiece, we have been entrusted with an original 1969 nautical chart that the owner himself used during his ventures. These journeys led him to the mesmerizing depths of the Azores, where he explored the mysteries of the underwater realm. This precious sea chart, meticulously employed to gauge diving depths, adds an additional layer of historical significance.
As the light dances upon this horological masterpiece, the patina gracefully transitions between enchanting hues of brown and gray. Enhanced by the aged tritium in the striking orange hands and the ethereal "ghost-bezel," an almost cinematic spectacle unfolds before your eyes.
Preserved in its original glory, the Gay-Freres ladder steel bracelet remains intact, never having been shortened, allowing it to retain its full length. The authentic end links bear the distinctive mark of "ZH." Moreover, the original diver extension remains intact—a testament to its enduring authenticity.
The 40mm case has never undergone polishing, preserving its integrity and evoking a sense of timeless elegance. The original plexiglass, a testament to the service it received in 1982, still safeguards this marvel, ensuring an unobstructed view of its mesmerizing dial.
Having undergone a meticulous overhaul by our skilled watchmaker, the movement (cal. 2542pc) dances with precision and reliability, ensuring a seamless and enchanting experience.
This Super Sub Sea has etched itself deeply into our hearts, becoming one of our most cherished timepieces in recent memory. As we reluctantly bid farewell, a bittersweet mix of joy and sorrow fills our souls, for we entrust this treasure to a new owner—one who will share the same deep affection for this horological masterpiece that we hold dear.
Congratulations are in order if you seek a vintage watch adorned with a history as exhilarating as its perfect patina. Your search concludes triumphantly here, where timepieces of unmatched charm await their discerning admirers.
The item is differential taxed according to § 25a UStG (German tax law). You will therefore receive an invoice WITHOUT VAT shown separately.
You will not have to pay extra VAT or import charges when buying from any EU country!
Included:
High quality Watchurbia watch box
certificate incl. photos
service report
warranty certificate
40 mm measured without crown
24 months*
*You can find the warranty conditions under this LINK
Please contact us via contact form ↵, WhatsApp↵, E-mail or Instagram messenger to purchase or inquire about an item.
If the item is not available right now, feel free to contact us anyway!
Email:
Delivery:
We always ship via Express. Shipping costs for all EU-countries are included. For shipping rates outside EU please contact us.
***NEW*** FREE shipping to USA and Canada!
Watchurbia box