GRAND SEIKO 57GS Chronometer 5722-9990 – 1965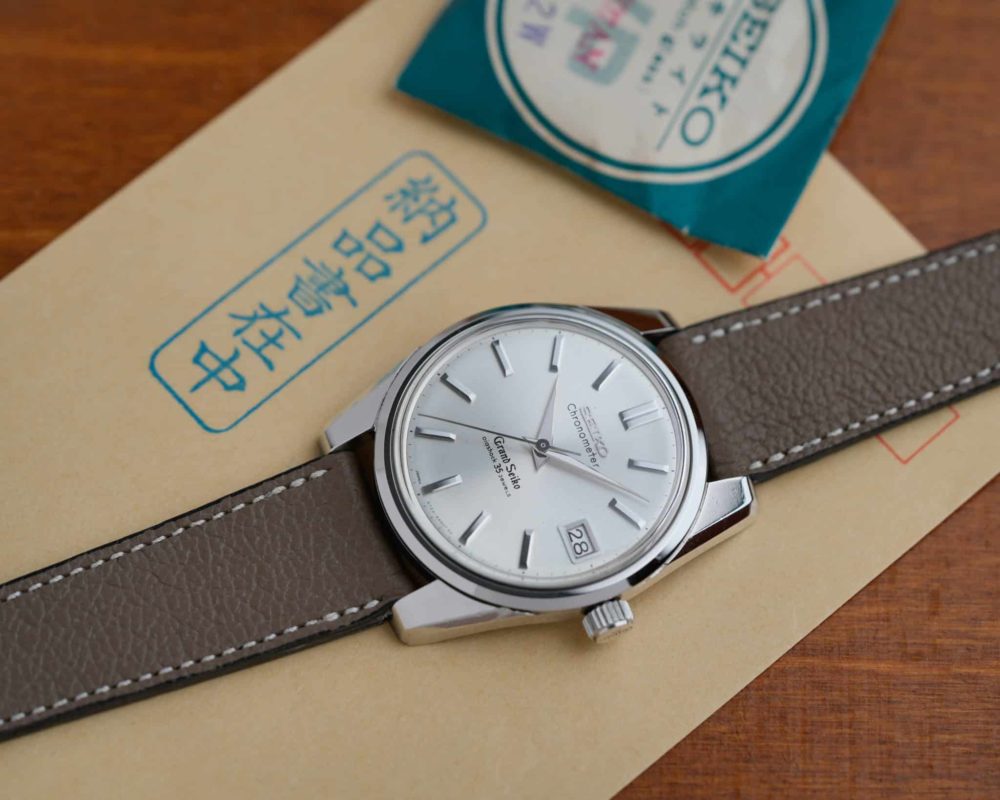 The 57GS, developed by Suwa Seikosha, is the first Grand Seiko watch family, introduced in late 1960 with the Grand Seiko Chronometer, now commonly known as the Grand Seiko First.
The Grand Seiko 57GS family consists of the following movements:
Caliber 3180, later renamed 5720A, with an accuracy of +12 to -3 seconds per day, 18,000 revolutions per minute and 45 hours of power reserve.
Caliber 430, later renamed 5722A, also ran at 18,000 revolutions per minute and 45 hours of power reserve and introduced the first date complication in a Grand Seiko watch.
The Caliber 5722B, an improved version of the 5722A, runs at 19,800 a/h for greater accuracy.
By the time Seiko renamed its movements in the mid-1960s, the caliber 3180 had already been phased out of production. For this reason, all existing examples bear the 3180 inscription, although the name was changed to 5720A.
For the caliber 430, on the other hand, the last produced examples bear the inscription 5720A.
Grand Seiko Self-Dater/Calendar
Introduced in 1963, this watch was the first Grand Seiko to feature a date complication equipped with Seiko's proprietary fast-forward mechanism. The watch also guaranteed a water resistance of 50 meters (5 atm).
In addition, the Self-Dater was the first Grand Seiko with a Zaratsu polish on the case surface.
Caliber 5722A, originally called 430, runs at 18,000 a/h, while the later, improved version 5722B provides higher accuracy at 19,800 a/h.
Light signs of wear on the case, nicely shaped hands and a brushed cream sunburst dial.
The crystal has been replaced with a genuine Seiko vintage NOS crystal from Japan. The old original crystal is still included with the watch as a spare. They are very hard to find!
The watch is from about 1965
Included:
High quality Watchurbia watch box
certificate incl. photos
service report
warranty certificate
36.7 mm measured without crown
24 months*
*You can find the warranty conditions under this LINK
Please contact us via email or Instagram messenger to purchase or inquire about an item.
If the item is not available right now, feel free to contact us anyway!
Email:
The item is differential taxed according to § 25a UStG (German tax law). You will therefore receive an invoice WITHOUT VAT shown separately.
You will not have to pay extra VAT or import charges when buying from any EU country!
Delivery:
We ship via Express always. Shipping costs for all EU-countries are included. For shipping rates outside EU please contact us.