IWC BETA 21 / Ref 3070
Real New Old Stock – Full Set – 1982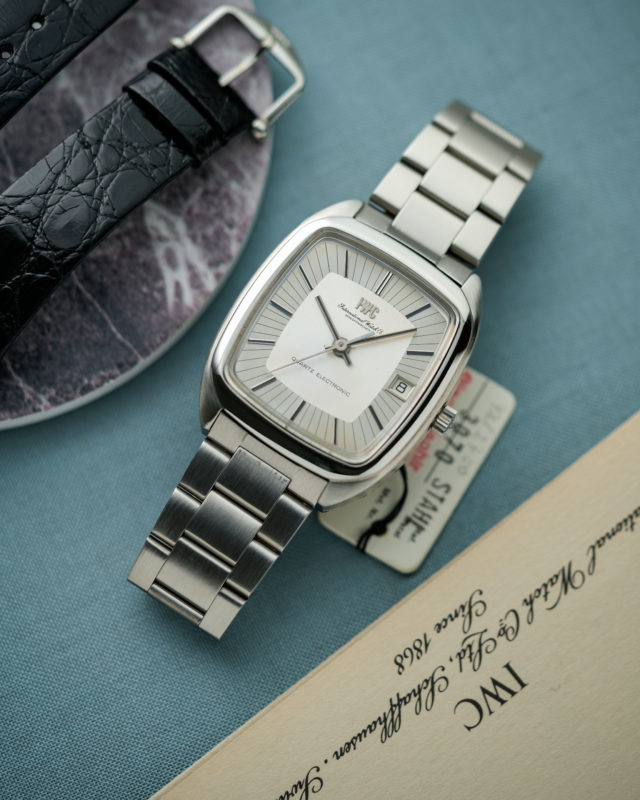 There are watches described as "NOS condition" – no problem about that, we do it as well on watches that appear almost unworn. This though, doesn't actually mean they are real "new" old stock.
So what is real NOS?
We consider real NOS to be a watch that has still all undamaged stickers, the original tags, no trace of wear on bracelet, clasp or case, the original and unworn leather strap and all papers, cases, boxes and booklets. These accessoires should be in very good, almost new condition as well.
Finding this kind of a "full set" is utterly difficult. Why? Because the chances are low that someone bought a watch 40 or 50 years ago and did't even wear it a single time.
What do we have to offer here?
It's a world's first, a world record, a rare piece, a collector's watch and could be ready to be shown at IWC's own museum.
The legendary BETA21 movement:
The first Prototype of an analog Quartz watch was developed in a 1962 founded joint development lab, the Centre Electronique Horloger (CEH ) in Neuchâtel, Switzerland, under the name of Beta21 (it had 21 participating swiss companies).
At the International Chronometric Competition, held the same year in the Neuchâtel Observatory, CEH's Prototypes were granted a new precision world record, a deviation of some tenth of a second per day.
CEH developed and produced the Integrated Circuits. Ebauches S.A. manufactured the mechanical parts and the quartz crystal resonator. Omega produced the micromotor.
The watches were asembled in three separate workshops. They produced the final products to the specifications of the Swiss Watch Manufacturers, who placed their orders.
Sixteen Swiss watch manufacturers (incl. IWC, Rolex, Patek Philippe, Omega…) started the sale of these BETA21 quartz watches under their own labels (starting 1970).
IWC only ordered 800 of the BETA21 movements and these were in various models including the famous Da Vinci in solid gold.
There are just a very few BETA21 IWC watches available in total and even less of the reference 3070.
We are not sure if there is even another existing "real NOS full set" of the 3070 with steel bracelet and original leather strap. So it can easily be an one-off occasion.

The watch was bought by its first and only owner directly at IWC's headquartes in Switzerland, not at a dealer! Stamped and sold by IWC AG Schaffhausen on March 23rd, 1982.
This rare example ticks all boxes for a great vintage full set IWC.
All accessoires and papers are in almost perfect condition.
Included:
original IWC boxes
original certificate (stamped by IWC's HQ)
service booklet
warranty booklet
original transparent plastic pouch / case for the papers
original hang tag (still attached to the bracelet)
original and unworn leather strap
original and unworn steel bracelet
WATCHURBIA warranty certificate
36 mm measured without crown
12 months*
*You can find the warranty conditions under this LINK
Please contact us via 〉contact form〈 email or Instagram messenger to purchase or inquire about an item.
If the item is not available right now, feel free to contact us anyway!
Email:
The item is differential taxed according to § 25a UStG (German tax law). You will therefore receive an invoice WITHOUT VAT shown separately.
You will not have to pay extra VAT or import charges when buying from any EU country!
Delivery:
We ship via Express always. Shipping costs for all EU-countries are included. For shipping rates outside EU please contact us.