Rolex GMT-Master 1675 Pepsi Fat font – all red GMT hand – El Cornino PCG – Rivet stretch bracelet 6636 – 1965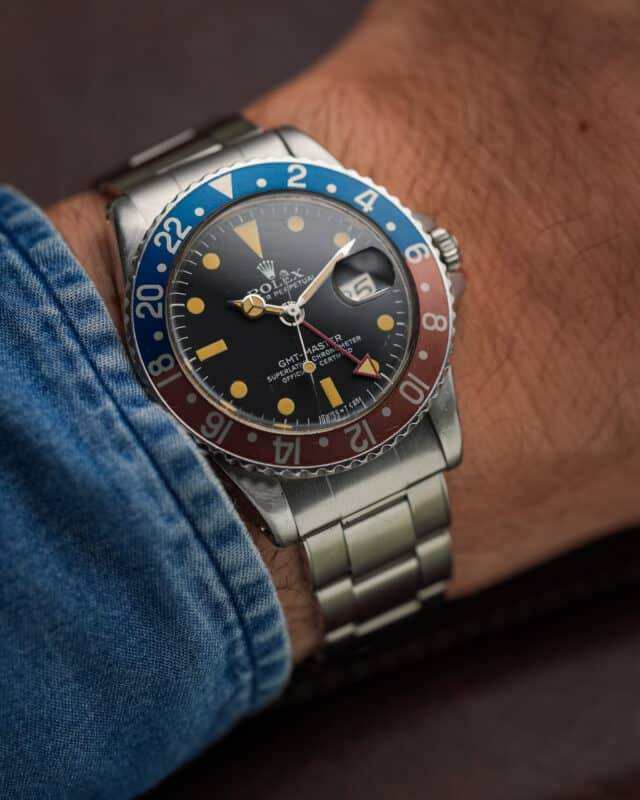 This special ROLEX GMT Master 1675 was bought in Belgium by its original owner in 1965 and sold by his daughter to us, just 58 years later.

What makes this piece so special and rare?
– It's an early thin case (12.7mm)
– It's the PCG (pointed crown guards) case – The "El Cornino" (not Broad)
– Beautiful fat font Pepsi bezel insert (period correct)
– original all-red GMT hand
– original rivet – stretch bracelet Ref. 6636 (stamped 1/65) with 58' end-links.
The bracelet was fully refurbished by a specialist in Germany – so it has no unwanted stretch and the springs are super strong!
This bracelet alone is a true gem and worth about 7k.
The 1675 was serviced by Rolex in 1973 (remembering the birth year of the owner's daughter)
During this service, Rolex changed the dial to a very early tritium MK4 dial and replaced the GMT hand with a "all-red" version.
The owner wanted the GMT hand to be more visible, so he decided to have it changed during this service. Like it or not, it looks stunning!
This information we received first hand from the owner (and his daughter) proofs the theory that the "all-red GMT hand" is an original Rolex service part, used in the early 70s.
– Serial number: 1.09m
As always: Patina is king!
Look at the UV-light test and the general tritium color, just "WOW!"
Case condition: Super nice and even overall patina with good preserved edges, definitely shows signs of wear.
Dial and hands condition: Almost perfect!
Some light scratches on the plexi.
Bracelet: Fully refurbished springs
Conclusion: A wonderful early 1675 GMT – Master with a great provenance and some special features…even though some service parts, the story of the owner is part of the watch's history.
Bracelet fits up to about 18cm.
PRICE: 32900 EUR*
BUY NOW
WhatsApp Chat
*Margin VAT. The item is differential taxed according to § 25a UStG (German tax law). You will therefore receive an invoice WITHOUT VAT shown separately.
You will not have to pay extra VAT or import charges when buying from any EU country!
Included:
high quality Watchurbia watch box + Barenia leather travel pouch (hand made in Germany)
certificate incl. photos
service report
warranty certificate
40 mm measured without crown
24 months*
*You can find the warranty conditions under this LINK
Please click the "BUY NOW" button, contact us via contact form ↵, WhatsApp↵, E-mail or Instagram messenger to purchase or inquire about an item.
All other requests are welcome as well!
Email:
Delivery:
We always ship via insured Express. Shipping is free to EU countries, USA & Canada!
Watchurbia box