Jaeger-LeCoultre Memovox Speed-Beat – Jumbo Ref. E 876 Alarm – 1970s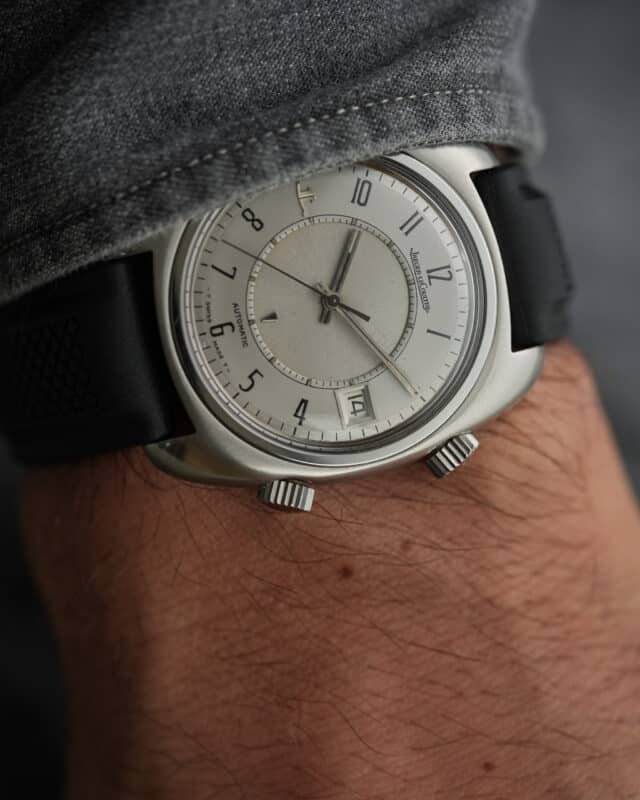 Memovox:
Portmanteau of Latin memoria 'memory' and vox 'voice', refers to a model series of mechanical wristwatches with alarm function from the Swiss watch manufacturer Jaeger-LeCoultre.
E876 – the speed beat Memovox.
The caliber K916 was used in the Memovox models from 1969 on. This caliber was equipped with an increased balance oscillation frequency of 28,800 vibrations per hour and was therefore called Speed-beat, compared to the K825 with 18,000 vibrations per hour. In addition, K916 and was equipped with a winding rotor mechanism that could utilize the full 360 ° in both swing directions to store mechanical energy in the barrel to drive the time function.
This "jumbo" version was marked with "GT" (grand taille = big size) for the French market and with HPG for High Precision Guaranteed, when sold to the US market.
At 38 mm case diameter without the crowns, this cushion shaped case is a truly 1970s child, just bit larger than most of the watches JLC sold at this time.
If you like vintage watches but struggle  finding the right size for your wrist, this E876 Memovox is the right choice for you. We would recommend this watch for all wrists of 17 – 20 cm.
Condition:
The watch has seen some polishing but remains in a very nice overall condition. The edges are sharp and clean, the dial and hands are just beautiful.
Alarm function: Beating super strong, so better make sure that you have not set the alarm when walking through a dark alley alone… it will scare the cr*** out of you!
New WATCHURBIA FKM prime rubber diamond strap – 20 mm lug width
BUY THE STRAP HERE
PRICE: SOLD

*Margin VAT. The item is differential taxed according to § 25a UStG (German tax law). You will therefore receive an invoice WITHOUT VAT shown separately.
You will not have to pay extra VAT or import charges when buying from any EU country!
Included:
high quality Watchurbia watch box
certificate incl. photos
service report
warranty certificate
38 mm measured without crown
24 months*
*You can find the warranty conditions under this LINK
Please contact us via contact form ↵, WhatsApp↵, E-mail or Instagram messenger to purchase or inquire about an item.
If the item is not available right now, feel free to contact us anyway!
Email:
Delivery:
We always ship via insured Express. Shipping is free to EU countries, USA & Canada!
Watchurbia box